Salmon Fishing Charters
Our salmon boats are equipped with downriggers and trolling gear and light tackle rods and reels. We provide all bait, appropriate tackle and the know how to help you land your salmon.
King Salmon Fishing
Ocean-run King Salmon are King Salmon charter fishing in Homer, Alaska available for fishing year round in Kachemak Bay. We catch these delicious king salmon before they go up the river to spawn or go back out to sea to grow a bit older and bigger. Additionally in Kachemak Bay, we have winter king salmon that are waiting for the most adventuresome to go after them.
The first run of Ocean "Spawner" King Salmon is supposed to enter our area in the beginning of May and finish around the end of June. The second run of ocean spawner King Salmon is supposed to enter our area in the first part of July and run through the middle of August. These spawner King Salmon don't always listen to what the Alaska Department of Fish and Game tells them to do! Imagine that? We do our best to advise you of their whereabouts and their numbers for your King Salmon fishing success. Since our captains work 7 days a week, they have local knowledge about the hot spots which usually yield King Salmon and if these areas are not producing. We can catch King Salmon year round but they are our "Feeder King Salmon" which are fresh and delicious too!
Ocean "Feeder" King Salmon are a young, great tasting fish and they are usually available all year. They are smaller king salmon that come in to "feed" and then return to the deep waters for time to grow. The reason that the King Salmon are so big in Alaska is that they mature an extra year beyond other salmon.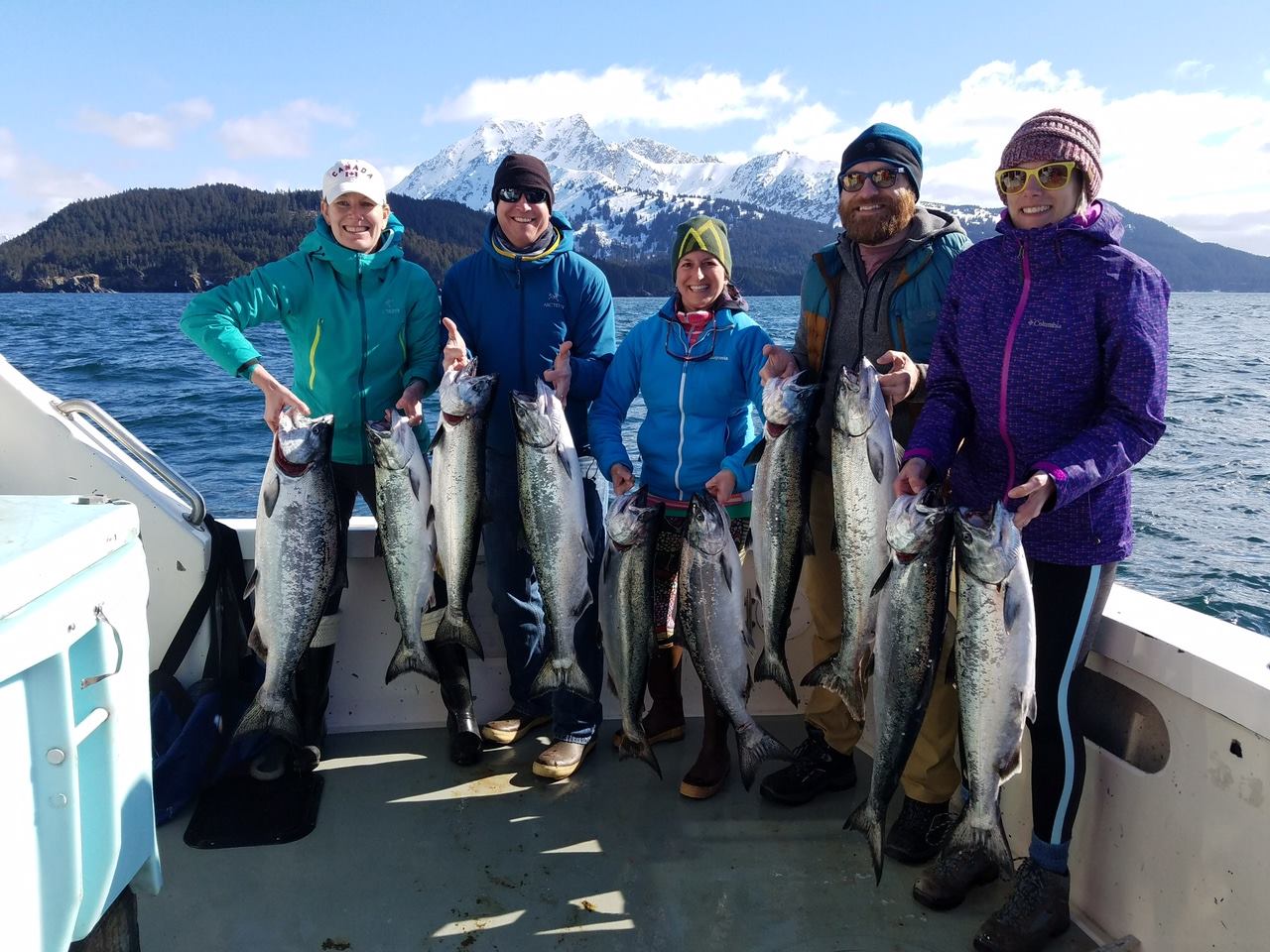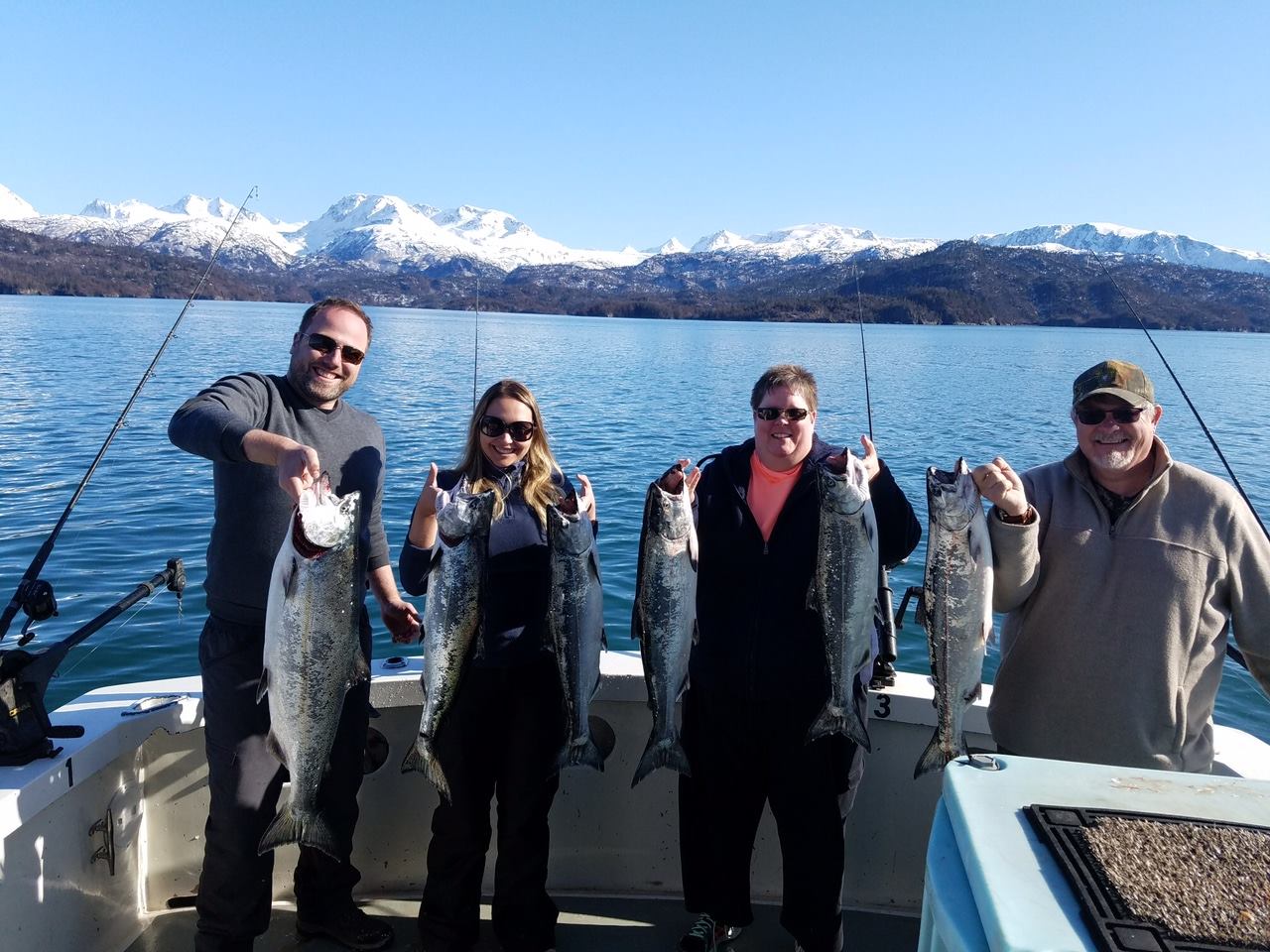 Winter King Salmon Fishing
Winter king salmon fishing is fun for those who like to be out in the brisk air and cool waters of Kachemak Bay from October through April. Charters are available when the weather cooperates so call and ask about current conditions. The boats have inside seating and heated cabins. After a day of invigorating fishing, nothing is better than the taste of fresh king salmon for dinner or you can have your fish processed for fine dining later on at home!
The limit for King Salmon is either 1 or 2 per day depending upon where the King Salmon are located. There is a bag limit of 5 per year allowed, except in the winter when recording king salmon is not required through the end of March. During the rest of the year, king salmon must be recorded on your fishing license as soon as they are caught.
Yearly Winter King Salmon Tournament in March
Our yearly Winter King Salmon Tournament is usually the third Saturday weekend in March. If the weather doesn't cooperate, then it can be moved to Sunday or the following weekend. Each year there is a huge number of anglers and hundreds of both charters and private boats who participate. Prizes range in the thousands of dollars and many anglers hold side bets to up the ante. The Winter King Salmon Tournament is one of Homer's most popular winter events. The winning fish usually weighs in around 30 lbs or so. One year we hosted NFL "Hall of Famer" Larry Csonka along with Audrey Bradshaw from NAPA's TV show "North to Alaska." Larry took 15th place in the derby when he caught a rare White King Salmon weighing 19.6 lbs. Audrey also landed a king salmon weighing 17.16 lbs. and we were thrilled for them. There were 855 anglers participating and that year only 75 fish were caught and 2 were landed on the Huntress which made us very proud!
Silver Salmon Fishing
Silver Salmon Fishing is offered to you on 6-pack boats which fish up to only 6 anglers. Our salmon boats are equipped with downriggers and trolling gear and light tackle rods and reels. We provide all bait, appropriate tackle and the know how to help you land your silver salmon. You may choose to spend the day out fishing for Silver Salmon where the captain will look for silver salmon as well as any King Salmon that might be in the area. Incidental catches of other salmon are also possible and you may keep what you catch as long as it is within the ADF&G limits.
Silver Salmon are hot in mid- late July through early September when they frequent our area.
Silver salmon usually weigh about 10-12 pounds and can be found jumping through the water right before your very eyes! You catch and reel in and we grab a big net to scoop the fish up for you as it approaches the boat. When these silvers hit in schools, they can be a blast to catch all around the boat! Some people enjoy eating silvers as much if not more than king salmon. It's all in your taste buds.
ADF&G limits the silver salmon catch to 3 per person per day when fishing in the ocean. Silver salmon are covered under your regular fishing license.